Pilot Results
In 2022 Vida Plena collaborated with the Columbia University Global Mental Health Lab to conduct a pilot program to test the feasibility of implementing g-IPT in Ecuador.
As the first organization to implement WHO-recommended group interpersonal therapy for depression in Latin America, we are excited that our pilot showed positive outcomes in all key indicators.
Read our full report (English)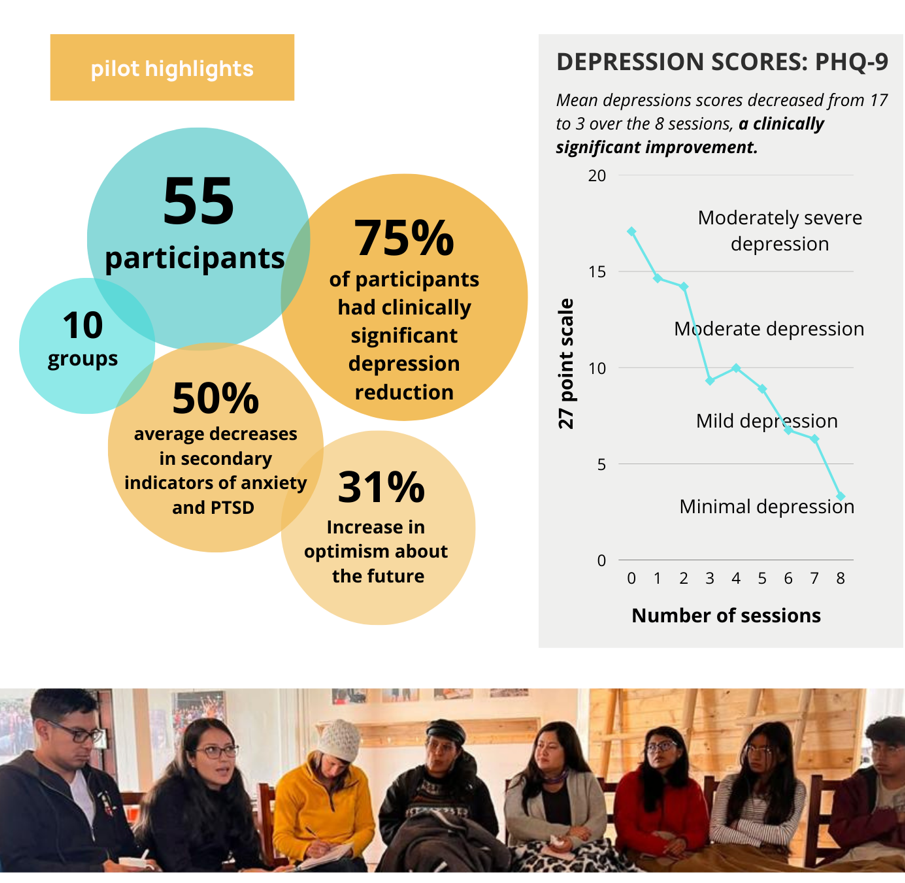 Predictive Cost-Effectiveness Analysis
Read our Predictive Cost-Effectiveness Analysis for the pilot program.
Will we achieve all the good we hope to? Prior to the pilot, we wanted to put together our best guesses of our future impacts through a calculation called a cost-effective analysis. These types of reports are especially useful to potential donors who want to be able to compare programs – sort of like an investor looking at a company's prospectus.  
In our analysis, we decided to focus on a type of public health metric called a WELLBY (wellbeing-adjusted life year) which is used to compare people's own evaluation of different illnesses and disabilities on their lives.  
Using this metric, we estimate it will cost $17 to improve a person's life by one WELLBY. As this number doesn't mean much by itself, a commonly used point comparison is the impact that can be achieved by simply just giving someone the same money.  Many people consider this approach to be the baseline for cost-effectiveness comparisons.   In this evaluation, we expect that Vida Plena is 8 times more cost-effective than GiveDirectly– which we are proud to say is something considered to be quite a good value for people who carefully study these metrics.